PRINCE
The Early Nineties Live, 1990-93
rox vox
---
Originally recorded for TV and radio broadcast, this superb set captures both of the artist's touring bands from the era on explosive form between 1990 and 1993.
By the start of the 1990s, Prince was firmly established as a global superstar, with a string of innovative and hugely successful releases behind him, and a reputation as an exciting and provocative live performer. In the summer of 1990 he embarked on his Nude tour, with a revamped Revolution band. The following year he debuted his 'Love Symbol' alter ego, and formed the New Power Generation. The material is presented together with background notes and images.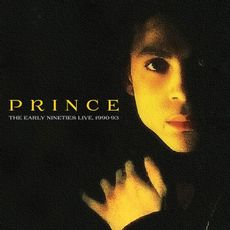 Tracklist
TOKYO DOME, TOKYO, JAPAN,
AUGUST 31ST 1990 –
NIPPON TV JAPAN BROADCAST
DISC ONE:
1. Intro
2. The Future
3. 1999
4. Housequake
5. Sexy Dancer
6. Kiss > I'm In The Mood
7. Purple Rain
8. Take Me With U
9. Bambi
10. Alphabet St. > It Takes Two
DISC TWO:
The Question Of U (Incl. Venus De Milo >
Under The Cherry Moon)
2. When Doves Cry
3. Do Me, Baby
4. Little Red Corvette
5. Batdance
6. Partyman (Incl. What Have You Done For Me Lately?)
7. Baby I'm A Star (Incl. Respect)
8. Ain't No Way (Outro)
ESTADIO MARACANA, RIO DE JANEIRO, BRAZIL,
JANUARY 18TH 1991 –
REDE GLOBO (REDE TV!) BROADCAST
DISC THREE:
1. Pedro Aznar Intro
2. Something Funky
3. Let's Go Crazy
4. Horny Pony
5. Kiss
6. Pink Panther
7. Purple Rain
8. Bambi
9. Take Me With You
DISC FOUR:
1. Shake!
2. Dr. Feelgood
3. Piano Medley: Venus De Milo > The Question Of You
4. Ain't No Way
5. Nothing Compares 2 U
6. Baby I'm A Star > Respect
7. We Can Funk
8. Thieves In The Temple
9. Jughead
TV APPEARANCES 1991 – 1993
DISC FIVE:
ARSENIO HALL SHOW,
SEPTEMBER 4th 1991 –
PARAMOUNT DOMESTIC TELEVISION BROADCAST:
1. Let's Go Crazy
2. Kiss
3. Cream
4. Purple Rain
5. Daddy Pop
6. Call The Law Intro
ARSENIO HALL SHOW,
FEBRUARY 23rd 1993 –
PARAMOUNT DOMESTIC TELEVISION BROADCAST:
7. My Name Is Prince
8. The Morning Papers
9. Blue Light
10. The Max
SPECIAL OLYMPICS OPENING, THE METRODOME, MN,
JULY 19th 1991 –
ABC-TV:
11. Let's Go Crazy Intro
12. Baby, I'm A Star
13. Push
14. Peter Gunn Theme