David Bowie
D.J. (40TH ANNIVERSARY 7" PICTURE DISC)
parlophone
---
Originally released on 29th June 1979, DJ was the second and final single from Lodger in the UK and the follow up to Boys Keep Swinging.
The Netherlands and Turkey would get Yassassin and the U.S. Look Back In Anger. The A side of this D.J. picture disc features a previously unreleased single edit of the track from the Lodger (2017 Tony Visconti Mix) included in the A New Career In A New Town box set. The previously unreleased version of Boys Keep Swinging recorded especially for The Kenny Everett Video Show features on the AA side. This take was recorded by Tony Visconti in Soho in London on the 9th April 1979 and features Sean Mayes on keyboards, Tony Visconti on bass, Simon House on violin, Andy Duncan on drums, Brian Robertson (of Thin Lizzy) on guitar and Ricky Hitchcock on guitar. The Kenny Everett Video Show was filmed on the following day and broadcast on 23rd April, 1979.

Side A D.J. (2017 Tony Visconti mix - single edit)
Previously unreleased Produced by David Bowie & Tony Visconti Mixed by Tony Visconti at Human Studios, NYC, 2017

Side AA Boys Keep Swinging (Kenny Everett Video Show Version)
Previously unreleased. Produced by David Bowie & Tony Visconti Recorded at Good Earth Studio, Soho London, 9th April, 1979 The images used on each side of the disc are stills taken from the respective video performances.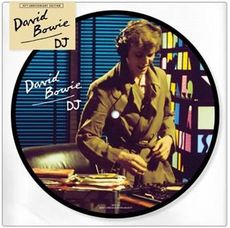 Tracklist
D.J. (2017 Tony Visconti mix - single edit)
Boys Keep Swinging (Kenny Everett Video Show Version)