other titles...
See also...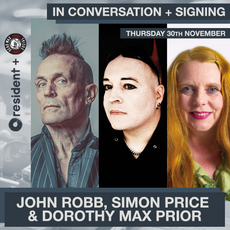 A very rare opportunity to see 3 knowledgeable stalwarts of their respective scenes, thrash out (hopefully not literally!) topics covered in their various excellent tomes.
there'll also be a pint & slice deal available at the event from deedee's pizza- so you can grab yourself a pint of laine sonar hazy pale ale & a slice of pizza, sit down & soak in the wisdom of these three legends!!
John Robb, Simon Price and Dorothy Max Prior
In Conversation + Signing
at deadwax social, brighton - thursday 30th november 2023
• running timings : 6pm-8pm
• no actual tickets are issued for the show – you will get an order confirmation & your name will be added to the guestlist - you'll just need to give your name on the door.
• all orders will be available to collect at the event
• priority entry will go those who purchase the book with event access. if we have space for additional entries on the day, we will be able to let extra people in.
• please bring id if you wish to be served at the bar, after 8pm the venue is 18+