Beth Nielsen Chapman
CrazyTown
Cooking Vinyl Limited
---
beth nielsen chapman instore + signing.
friday 23rd sept 2022, 6:30pm
(all ages - under 14s can come for free)
preorder any format above with "instore entry" for guaranteed entry for you & a guest!
as this album is due to be released on the same day as the instore, we strongly advise for you to select 'pick up in shop' to ensure your record is with you for the signing and to avoid any disappointment with postage.
'CrazyTown' is a collection of songs that reflect all the twists and turns of life, especially reflective of this wild ride we have all been living through.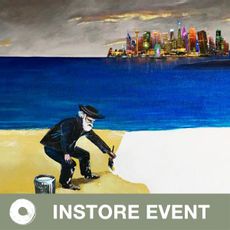 Tracklist
All Around The World
Put A Woman In Charge
4LeafClover
With Time
Dancin' With The Past
The Truth
The Universe
The Edge
Pocket Of My Past
Hey Girl
Everywhere We Go
Walk You To Heaven