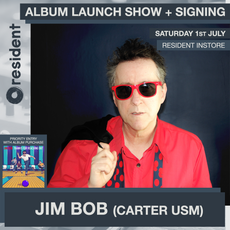 lp / cd1
thanks for reaching out

1 thanks for reaching out
2 the day of reckoning
3 bernadette (hasn't found anyone yet)
4 toxic man
5 this is end times
6 we need to try harder (we need to do better)
7 billionaire in space
8 sebastian's gone on a ridealong
9 goesaroundcomesaround
10 befriend the police
11 the prince of wales
12 thanks for reaching outro

cd2
this is my mixtape

1. are 'friends' electric?
2. new rose
3. country comfort
4. pretty in pink
5. sebastian
6. labelled with love
7. geno
Jim Bob (carter the unstoppable sex machine)
'Thanks For Reaching Out' Album Launch Show & Q&A + Signing
at resident music, brighton - Saturday 1st july 2023 (all ages - under 14s can come for free)
we're thrilled to have Jim bob in the shop for a performance, q&a and signing to celebrate the release of 'thanks for reaching out'.
• running timings : 6:30pm start.
• no actual tickets are issued for the show – you will get an order confirmation & your name will be added to the guestlist - you'll just need to give your name on the door.
• the release date for physical copies of this album is 30th june 2023. you will be able to collect the album at the show.
• please wait for an order notification to show your album is ready to collect before coming in to collect your copy.
• this page is for entry to the jim bob instore show - to purchase signed copies of 'thanks for reaching out' without entry to the show, please head here.