MOUNT KIMBIE
Love What Survives
warp
---
A revolving hall of mirrors – synths and grooves expand and contract, oscillating between soft melodicism and robust, angular textures.
Their 3rd full-length is further refracted by a host of exceptional guest talents. It features fantastic collaborations with the likes of King Krule (some of his best work), shop fave Micachu, the ever wonderful James Blake and French-Mexican singer-producer Andrea Balency, who all add more life and vibrancy.
Dominic Maker and Kai Campos have come a long way since their debut. Sounding like a full band rather than a duo, they are embracing different sonic textures and influences, ranging from post-punk and dream pop dance, to a weird gospel number. Melancholic, catchy and danceable – this record's got it all. Think The Cure, Neu and New Order all being given a modern make over with 2 vintage synths by Warp Records.

"here, mount kimbie adopt early-'80s indietronic's swirling analogue synths, hooky-esque bass and saturnine guitars" 4/5 – mojo
"Their sound is now driven by a tensile energy that sounds like they've been mainlining the early Factory catalogue" 8/10 - q
"a bold, adventurous album" 9/10 - DJ magazine.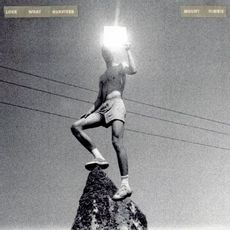 14
Tracklist
Four Years and One Day
Blue Train Lines (feat. King Krule)
Audition
Marilyn (feat. Micachu)
SP12 Beat
You Look Certain (I'm Not So Sure) (feat. Andrea Balency)
Poison
We Go Home Together (feat. James Blake)
Delta
T.A.M.E.D
How We Got By (feat. James Blake