FABIO FRIZZI
ZOMBIE FLESH EATERS
death waltz recording co.
---
From the twisted mind of Lucio Fulci comes 'ZOMBI 2' aka 'ZOMBIE FLESH EATERS' - Death Waltz Recording Company exhume another classic from their catalogue in lieu of demand from the dead and the living.
A notorious gore classic & the poster child for the video nasty generation, the film gently transports the viewer from the concrete jungle of New York City to the mysterious Caribbean island of Matool, with some shark versus zombie shenanigans along the way. Our musical guide for this tour de gore is the inimitable Fabio Frizzi & his magic synthesiser. Frizzi is adept at providing a superb musical travelogue & is brilliant at lulling us into a false sense of security with authentic Caribbean sounds before dragging them down to the tenth level of hell via electronics. Synths chug as percussion while dreamy keyboard notes meander – is this a dream or reality? It's reality & you're slowly pulled out of the dream with prog-rock beats & intense drums until that iconic main melody starts & you wake up. You're not on Matool anymore, you're back in Manhattan & the apocalypse has begun. Welcome to 'ZOMBI 2'. They are going to eat you.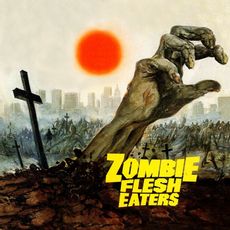 Tracklist
Sequence 1
Sequence 2
Sequence 3
Sequence 4
Sequence 5
Sequence 6
Sequence 7
Sequence 8