Christopher Young
Hellbound: Hellraiser II
Lakeshore Records
---
30th Anniversary reissue of 'Hellraiser II'.
Includes tracks never released on vinyl before. Red with black smoke 'Bloodshed' double vinyl. Composed by Christopher Young ('Hellraiser', 'The Gift', 'Drag Me To Hell')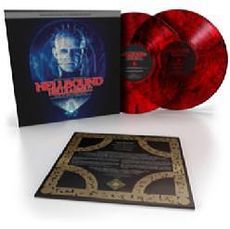 Tracklist
Hellbound / Second Sight
Séance
Looking Through a Woman
Something to Think
About
'Skin Her Alive'
Stringing the Puppet
Hall of Mirrors
Dead or Living?
Leviathan
Sketch with Fire
Chemical Entertainment
Obscene Kiss
Headless Wizard
What's Your Pleasure?