Longpigs
Mobile Home (first time on vinyl!)
Demon Records
---
The Sheffield Britpop bands's 2nd & final album, originally released on U2's record label Mother Records in 1999, has never been available on vinyl…until now!
Longpigs were the alternative rock band who came to prominence in the 1990s Britpop scene with their breakout debut album 'The Sun Is Often Out'.
Fronted by Crispin Hunt, the group also featured guitarist Richard Hawley, Simon Stafford on bass and drummer Andy Cook. Originally released in 1999 on U2's Mother label, 'Mobile Home' was the band's second and final release. Highlights include the singles 'Blue Skies' and 'The Frank Sonata' and the Stephen Street produced track 'Gangsters'.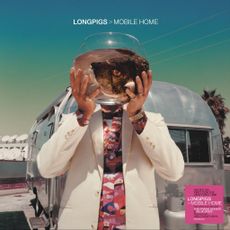 Tracklist
THE FRANK SONATA
BLUE SKIES
GANGSTERS
FREE TOY
BABY BLUE
DANCE BABY DANCE
MISS BELIEVER
I LIED I LOVE YOU
KEEP THE LIGHT ALIGHT
SPEECH BUBBLE
DOG IS DEAD
LOUD AND CLEAR
IN THE SNOW