David Bowie
★ (blackstar)
columbia
---
It's incredible to think that 50 years into his career, the mercurial music icon can continue to innovate, surprise & astound with his output but with his 28th album, that's exactly what he's done – again.
For an artist that spent years in silence, he's going through an almost prolific period & there's no denying that the man is on fire! enlisting the Donny McCaslin Quartet, a rugged jazz-rock combo, to add to the exquisite layers of sound, this is a jazzy outing that both seduces & challenges. For anyone who has never really explored bowie's considerable catalogue looking for contemporary reference points, then radiohead's 'kid a' / 'amnesiac' period would serve well. bowie has also been talking of his admiration of how Kendrick lamar's 'to pimp butterfly' stands both within and outside hip-hop, especially in its relationship to jazz & Bowie's long-proven ability to meld & transcend all genres comes together here to make for a fabulously explorative, abstract yet wholly connected & enthralling experience. "Bowie isn't so much back on the horse as riding bareback towards a cliff-edge" 4/5 – mojo.

derry recommends: "Final masterpiece from the ultimate serial innovator, still evolving & challenging to the end"

natasha recommends: "a heartbreakingly beautiful, poignant & arresting record. if there had to be one, we couldn't have hoped for a better swansong"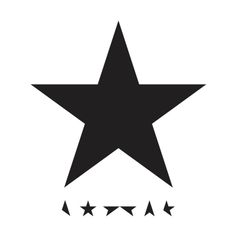 Blackstar
'Tis a Pity She Was a Whore
Lazarus
Sue (Or in a Season of Crime)" (Bowie, Maria Schneider, Paul Bateman, Bob Bharma)
Girl Loves Me
Dollar Days
I Can't Give Everything Away