Squirrel Flower
I Was Born Swimming
Full Time Hobby
---
A beautiful slip of a record that swerves from emotive and poetic folk to foot-on-the-monitor, riff-tastic, rock precisely when you least expect it.
Ella O'Connor Williams's music is ethereal and warm, brimming over with emotional depth but with a steely eyed bite and confidence in its destination. The band on "I Was Born Swimming" plays with delicate intention, keeping the arrangements natural and light while Williams' lead guitar is often fiercely untethered. At the heart of the album lives Williams' haunting voice and melancholic, soulful guitar. The sounds expand and contract over diverse moods, always seeking a new direction, a new resonance. And do you know what? They damn well succeed.

"Autobiography and poetry on mesmerising debut" 4/5 – The Arts Desk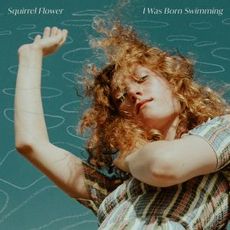 Tracklist
I-80
Red Shoulder
Slapback
Eight Hours
Headlights
Honey, Oh Honey!
Seasonal Affective Disorder
Home
Street Light Blues
Rush
Belly of the City
I Was Born
Swimming
dinked 7"
Take It Or Leave It
Hold On