richard norris
Hypnotic Response
INNER MIND
---
Norris wasn't kidding when he named this 'Hypnotic Response' – this is an entrancing tapestry to lose yourself in for 40 minutes at a time.
Each fresh dip into the driving kosmische will refresh & reinvigorate you like a mint-based shower gel to unsuspecting nether regions.
Mr Norris is a jolly busy man & we're very grateful for his productive workrate! This particular beauty is a mind-melting groove-fest of motorik electronica. After a host of well received ambient releases, Richard Norris is back with the motorik, trance inducing electronic groove of 'Hypnotic Response'. Influenced by German 70's music, psychedelia, hypnotic repetition and an old Korg 55 drum machine, these tracks veer from the expansive eleven minute workout 'Arca' to the mesmeric sequences of 'In Flight', from the propulsive Kosmishe rhythm of 'Free Ride' to the electronic lullaby 'La Lune'. A widescreen and mesmerising set, with accompanying retina altering artwork and vinyl. Dive in deep.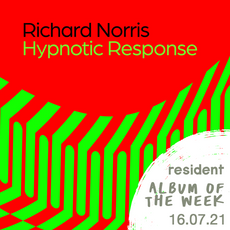 In Flight
Arca
Free Ride
Gamma & Delta
Reflections of Kyoto
La Lune