other titles...
See also...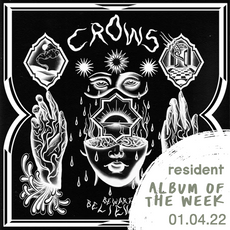 dinked edition



bone colour vinyl
Closer Still
Garden of England
Only Time
Slowly Separate
Moderation
Healing
Room 156
Meanwhile
Wild Eyed & Loathsome
The Servant
Sad Lad
Dinked edition 168

- 180g Black & White Swirl Vinyl*
- A5 Lyric & Illustration Booklet *
- A2 Poster *
- Stickers *
- Tip-On Gatefold Sleeve
- Printed Inner Sleeve *
- Hand Numbered *
- Limited Edition pressing of 500

*EXCLUSIVE to Dinked Edition
CROWS
Beware Believers
Bad Vibrations Records
CAW!! One of our very favourite racket makers properly blew us away with this loud, cathartic & abrasive album.
A quintessential Crows record this certainly is. Ravening (ahem!) & hedonistic, the London four-piece's 2nd album (following their 2019 debut on the IDLES-run Balley Records label) is far from untamed. Their dark & visceral post- punk is tight, having been honed & hardened through years of notoriously rowdy live shows (we've seen many of you at them & some of you will have had the joy of seeing them play up close & personal on our shopfloor too). From the monochrome aesthetic to the pulverising ferocity, 'Beware Believers' is a celebration of everything Crows represent.