Bruce Springsteen
SWEDEN BROADCAST 1988
HOBO
---
In 1988, Springsteen and the E Street Band embarked on the 'Tunnel Of Love Express Tour', which bemused his faithful audience with theatrical shows, where the band would enter to the sound of a five piece horn section.
The gig included on this CD was recorded on 3rd July '88 at Stockholm's Olympic Stadium. Simultaneously broadcast across FM radio in exceptional audio quality, Springsteen mixes some older numbers - 'The River', 'Adam Raised A Cain', 'Born In The U.S.A.' - with a selection from ''Tunnel Of Love, as well as playing covers from the likes of John Lee Hooker and Edwin Starr. The result, which thanks to this release can now be heard by all, is a truly dynamic, albeit unconventional, live performance by Bruce and the E Street-ers.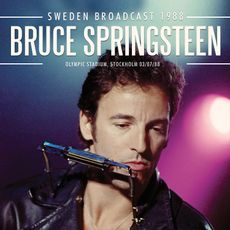 Tunnel Of Love
Boom Boom
Adam Raised A Cain
The River
All That Heaven Will Allow
Seeds
Roulette
Cover Me
Brilliant Disguise
Tougher Than The Rest
Piano Interlude
Spare Parts
War
Born In The U.S.A.