other titles...
See also...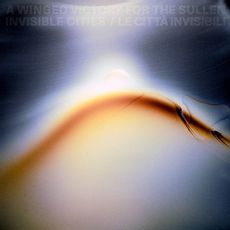 So That the City Can Begin to Exist
The Celestial City
The Dead Outnumber the Living
Every Solstice & Equinox
Nothing of The City Touches the Earth
Thirteenth Century Travelogue
The Divided City
Only Strings and Their Supports Remain
There Is One of Which You Never Speak
Despair Dialogue
The Merchants of Seven Nations
Desires Are Already Memories
Total Perspective Vortex
Dinked Edition 86
· 'deep purple' coloured vinyl *
· alternate sleeve artwork *
· gatefold sleeve
· double-sided art print designed by Davy Evans *
· numbered edition *
· limited pressing of 600

*exclusive to Dinked Edition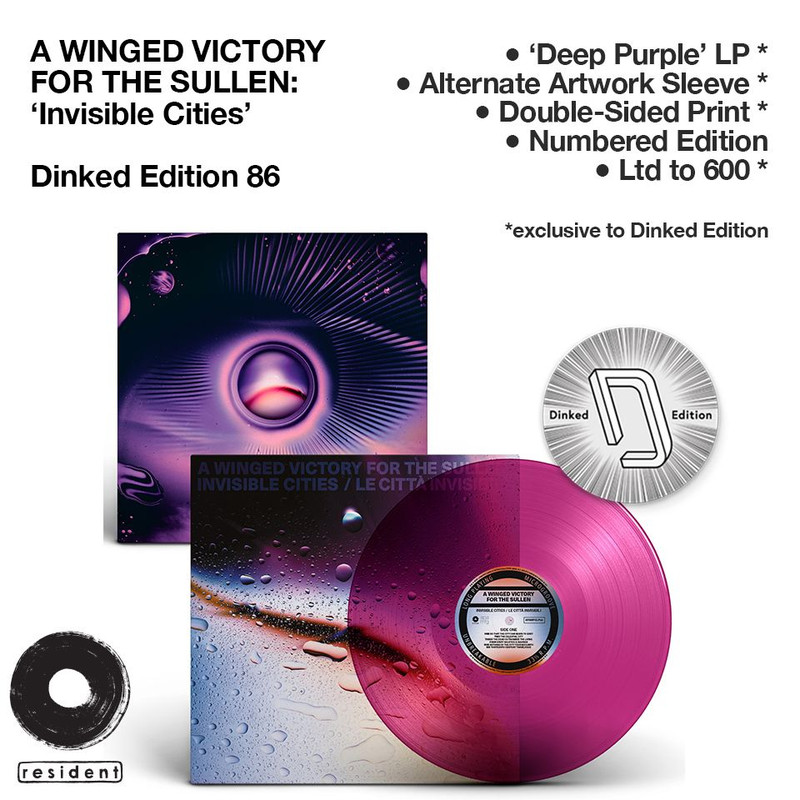 a winged victory for the sullen
Invisible Cities
Artificial Pinearch Manufacturing
10 years on from their resplendent debut, AWVFTS continue to delight us with their scintillant combination of strapping drones, soothing strings & an overwhelming sense of ambient noise that will pierce you straight through with its magnanimous gusto.
The ambient duo has excavated another glistening artefact of rich atmospheric beauty that will delight fans of max richter, nils frahm and tim hecker. A Winged Victory for the Sullen, the composer collaboration between Stars of the Lid founder Adam Wiltzie and LA composer Dustin O'Halloran, composed 'Invisible Cities' as the stunning score to the critically acclaimed theatre production of the same name.
"Four months is not a lot of time to create 90 minutes of music for a production using classical theatre, dance, & high res video mapping on a stage the size of 2 football pitches. It was a pleasure to work with 59 Productions, unlike other producers, they left the micro-managing at home, and let us get on with it. Early on in discussions with director Leo Warner it was realised that the human voice would take a central role in the score as it was essentially the only instrument we could see evolving over 600 years with a storyline that would not have the listener screaming "its Zimmertime", says Wiltzie.
Transformed into 45 minutes of breath-taking beauty, 'Invisible Cities' opens with the numinous 'So That the City Can Begin to Exist', as Wiltzie and O'Halloran draw breath from distinctively enthralling and vastly expansive worlds. The ominous soundscapes of 'The Dead Outnumber the Living' contrast with the new beginnings that are presented in 'Every Solstice & Equinox', while the jagged and uneasy 'Thirteenth Century Travelogue' is one of tension and dread.
Elsewhere, 'The Divided City' captivates and intrigues while 'Only Strings and Their Supports Remain' and 'There Is One of Which You Never Speak' are bold roars for survival before the choral ambience of 'Desires Are Already Memories' and piercing drones of 'Total Perspective Vortex' bring down the curtain on a spectacular and incredibly emotive body of work.
Releasing their self-titled debut album in 2011 (Erased Tapes), A Winged Victory for the Sullen has developed something of a cult status over the past decade and alongside artists such as Max Richter, Hauschka, Hildur Guðnadóttir and Tim Hecker, are the vanguard of the neoclassical and ambient world and can count the likes of Jon Hopkins as fans.