Sly & The Family Stone
higher!
sony
---
Sly & Co's first ever career retrospective collection is a beauty to behold.
As one of the most philosophically & instrumentally diverse bands of the 70's they sculpted a sound & D.I.Y aesthetic that has influenced innumerable bands. Included are 17 previously unreleased recordings, alternate mixes, mono singles, demos, instrumentals, live concert tracks, television recordings & a beautiful 104 page book packed with nostalgic glory ideal for the curious & the completist. Your life, never mind your record collection isn't complete without the off kilter twangs & distinct bassline of Sly's 'In Time'.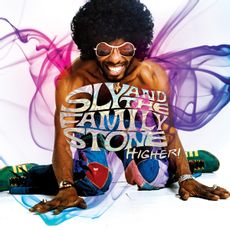 17
Tracklist
Disc One (1964-1967):
1. I Just Learned How To Swim by Sly Stewart (Autumn Records single, 1964)
2. Scat Swim by Sly Stewart (Autumn single, 1964)
3. Buttermilk (Part 1) by Sly (Autumn single, 1965)
4. Dance All Night by Sly and Freddie (1965, originally unissued)
5. Temptation Walk by Sly (Autumn single, 1965)
6. I Ain't Got Nobody (For Real) (Loadstone single, 1967)
7. I Can't Turn You Loose (Loadstone single, 1967)
8. Higher (mono Epic single master, promo only, 1967)
9. Underdog (mono Epic single master, 1967)
10. Bad Risk (mono Epic single master, 1967)
11. Let Me Hear It From You (mono Epic single master, 1967)
12. Advice (A)
13. If This Room Could Talk (A)
14. I Cannot Make It (A)
15. Trip To Your Heart (A)
16. I Hate To Love Her (A)
17. Silent Communications (1967, previously unissued)
18. I Get High On You (version one, 1967, previously unissued)
19. I Remember (1967, previously unissued)
20. My Woman's Head (instrumental demo, 1967, previously unissued)

Disc Two (1967-1968):
1. What's That Got To Do With Me (1967, previously unissued)
2. Fortune And Fame (1967, previously unissued)
3. What Would I Do (1967, originally unissued, B)
4. Only One Way Out Of This Mess (1967, originally unissued, B)
5. I Know What You Came To Say (1967, previously unissued)
6. Dance To The Music (mono Epic single master, 1967)
7. Ride The Rhythm (C)
8. Color Me True (C)
9. Are You Ready (C)
10. Don't Burn Baby (C)
11. We Love All (D)
12. Danse A La Musique by The French Fries (mono Epic single, 1968)
13. Small Fries by The French Fries (mono Epic single, 1968)
14. Chicken (mono Epic single master, 1968)
15. Into My Own Thing (E)
16. Life (mono Epic single master, 1968)
17. Love City (1968, previously unissued mono mix)
18. M'Lady (mono Epic single master, 1968)
19. Dynamite! featuring Johnny Robinson on vocals (1968, previously unissued)
20. Undercat (instrumental, 1967, previously unissued)

Disc Three (1968-1970):
1. Everyday People (mono Epic single master, 1968)
2. Sing A Simple Song (mono Epic single master, 1968)
3. I Get High On You (version two, 1968, previously unissued)
4. Wonderful World Of Color (instrumental, 1968, previously unissued)
5. Pressure (originally unissued, F)
6. I Want To Take You Higher (mono Epic single master, 1969)
7. Seven More Days (originally unissued, F)
8. Feathers (instrumental, 1968, previously unissued)
9. Somebody's Watching You (G)
10. Sex Machine (G)
11. Hot Fun In The Summertime (mono Epic single master, 1969)
12. Everybody Is A Star (mono Epic single master, 1969)
13. Thank You (Falettinme Be Mice Elf Agin) (mono Epic single master, 1969)
14. Stand! (LIVE at the Isle of Wight Festival, August 30, 1970, H)
15. You Can Make It If You Try (LIVE, same as track 14, H)
16. Dance To The Music (LIVE, same as track 14, previously unissued)
17. MEDLEY: Music Lover / I Want To Take You Higher / Music Lover (LIVE, same as track 14, previously unissued)

Disc Four (1971-1977):
1. Luv N' Haight (Epic single master, 1971)
2. Family Affair (I)
3. Brave & Strong (Epic single master, 1971)
4. Runnin' Away (Epic single master, 1971)
5. (You Caught Me) Smilin' (Epic single master, 1971)
6. Spaced Cowboy (I)
7. You're The One featuring Little Sister (LIVE on Don Kirshner's Rock Concert, September 1973, previously unissued)
8. In Time (J)
9. If You Want Me To Stay (Epic single master, 1973)
10. Frisky (Epic single master, 1973)
11. Skin I'm In (J)
12. If It Were Left Up To Me (Epic single master, 1973)
13. Time For Livin' (Epic single master, 1974)
14. Can't Strain My Brain (Epic single master, 1974)
15. Loose Booty (K)
16. Le Lo Li (Epic single master, 1975)
17. Crossword Puzzle (Epic single master, 1975)
18. Family Again (Epic single, 1976)
19. Hoboken by Sly Stone (originally unissued, 1975-1977)
20. High by Sly Stone (1975, previously unissued)