other titles...
See also...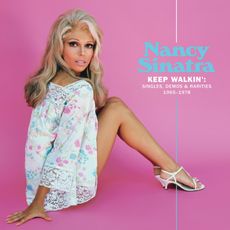 The City Never Sleeps At Night
The Last Of The Secret Agents
My Baby Cried All Night Long
Shades
In Our Time
Love Eyes
Rockin' Rock and Roll (1st TIME ON VINYL)
This Town
Tony Rome
100 Years
See The Little Children
Something Pretty (PREVIOUSLY UNRELEASED)
Do I Hear A Waltz (PREVIOUSLY UNRELEASED)
Drummer Man
Zodiac Blues (1st TIME ON VINYL)
Highway Song
Are You Growing Tired Of My Love
Flowers In The Rain
Glory Road
Ain't No Sunshine
Easy Evil (1st TIME ON VINYL)
Sugar Me
Kinky Love
Dolly and Hawkeye
I Just Can't Help Believing (PREVIOUSLY UNRELEASED)
Nancy Sinatra
Keep Walkin' : Singles, Demos & Rarities 1965 - 1978
light in the attic
A sumptuous collection which includes tracks that have never made it onto vinyl before - a must if you've enjoyed her collaborations with Lee Hazlewood.
a Definitive collection of Nancy's rare singles, demos and previously unreleased cuts, Including 3 previously unreleased tracks, plus 3 tracks making their vinyl debut. Deep booklet includes new Q&As with Nancy & Don Randi (The Wrecking Crew) – both conducted by GRAMMY®-nominated co-producer Hunter Lea PLUS never before-seen photos from Nancy Sinatra's personal archive. Features audio freshly remastered from the original analog tapes by GRAMMY nominated engineer John Baldwin.