other titles...
See also...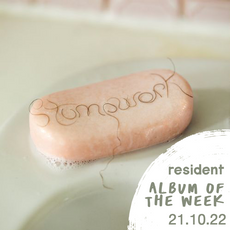 Anna Calls From The Arctic
Kwenchy Kups
Gary Ashby
Driver's Story
Hot Penny Day
Stumpwork
No Decent Shoes For Rain
Don't Press Me
Conservative Hell
Liberty Log
Icebergs
Tea Towel
Dry Cleaning
stumpwork
4ad
The music is more expansive (but still stretched taut), the melodies are still subtle (but more spacious) & Florence Shaw even sings a bit (not much, mind).
New Long Leg' may have been our AOTY 2021 but when albums come in quick succession it's sometimes hard to move on. Now that it's here, on the shop stereo & in our ears though, we realise this ambitious new record is both comfortingly more of the same & also refreshingly different - from both their previous output & from their contemporaries. It's funky. It's witty. It's abstract. It's got balls & depth & longevity. Just check out the psych funk of 'Hot Penny Day' to get a flavour of the welcome progression.
"magnificent second album proves they're one of a kind. The London band's second album is a bold leap forward, one that sets the band apart from their contemporaries and defies categorisation" 5/5 - NME
"The south Londoners' wonderfully enigmatic follow-up to New Long Leg feels more collage than essay, the poetic cheek by jowl with the preposterous" 5/5 - Music OHM