gaz coombes
'Turn The Car Around' album launch show
at resident music, brighton - wednesday 18th january 2023 (all ages - under 14s can come for free)
---
sold out!.
you can still catch gaz coombes live at concorde 2 on 27/04/23
and you can pick up *signed* copies of 'turn the car around' here
we are very pleased to have the legendary gaz coombes in the shop for an intimate instore performance and signing in celebration of 'turn the car around'!
• running timings : 6:30pm start.
• no actual tickets are issued for the show – you will get an order confirmation & your name will be added to the guestlist - you'll just need to give your name on the door.
• the release date for physical copies of this album is 13th january 2023. this event is happening on release date so your order will be set to 'pick up in shop' and you will be able to collect the album at the show.
• please wait for an order notification to show your album is ready to collect before coming in to collect your copy.
• this page is for entry to the gaz coombes instore show - to purchase copies of 'where i'm meant to be' without entry to the show, please head here.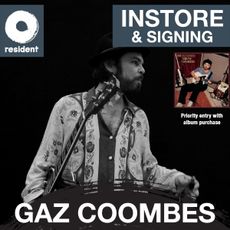 Overnight Trains
Don't Say It's Over
Feel Loop (Lizard Dream)
Long Live The Strange
Not The Only Things
Turn The Car Around
This Love
Sonny The Strong
Dance On