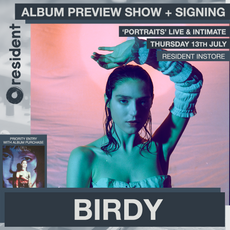 paradise calling
raincatchers
ruins i
your arms
heartbreaker
i wish i was a shooting star
portraits
ruins ii
automatic
battlefield
tears don't fall
birdy
'Portraits' live and intimate album preview show
at resident music, brighton - Thursday 13th july 2023 (all ages - under 14s can come for free)
birdy's baCK & we're being treated to an early preview of 'portraits' here live in our humble (& increasingly flattered) shop!
as the event is before the release date, you will not be able to collect your album on the night. instead, you will receive an art card at the event which you will be able to get signed if you wish.
• running timings : 6:30pm start.
• no actual tickets are issued for the show – you will get an order confirmation & your name will be added to the guestlist - you'll just need to give your name on the door.
• this page is for entry to the birdy instore show - to purchase copies of 'portraits' without entry to the show, please head here.