other titles...
See also...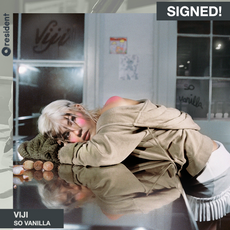 poster (not yet signed)



cream vinyl

Anything
Down
Sedative
Sundress in pink
Karaoke
Blanket
Sharks
Slip out quiet
1850
Say Hi
White Lighter
Ambien
Viji
So Vanilla
speedy wunderground
The adopted Londoner takes a wealth of influences from the 90s and early 2000s and elevates them into modern heartfelt alt-rock with lashings of pop charm.
Referencing the easy, sleazy sounds of the 90s, Viji has been cementing herself as one of the most exciting alternative artists to watch in the UK right now. every song had a different writing process – some saw her and Carey playing guitar chords together for hours, until the sounds fused into one, and others came from late night ramblings at home. Her approach to shoegazey rock, raw instrumentals and vocal delivery makes her stand out as one of the most exciting UK artists to watch, pioneering what rock music can sound like in the modern era.