other titles...
See also...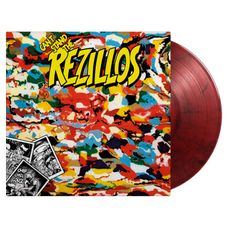 Flying Saucer Attack
No
Somebody's Gonna Get Their Head Kicked In Tonight
Top Of The Pops
2000 A.D.
It Gets Me
I Can't Stand My Baby
Glad All Over
(My Baby Does) Good Sculptures
I Like It
Getting Me Down
Cold Wars
Bad Guy Reaction
The REZILLOS
Can't Stand The Rezillos (2023 Reissue)
music on vinyl
They might not have been able to stand each other, famously splitting up 4 months after this release, but we can't get enough of this punk classic from '78.
Can't Stand The Rezillos' is the debut studio album by Edinburgh- based punk band the Rezillos and was released in 1978. The album includes the UK top twenty hit "Top Of The Pops", as well as several cover versions of 1960s songs: "Glad All Over" (Dave Clark Five), "Somebody's Gonna Get Their Head Kicked In Tonight" (Fleetwood Mac), and "I Like It" (Gerry and the Pacemakers). It was produced by the acclaimed Bob Clearmountain in collaboration with Tony Bongiovi. The debut album received positive reviews from the UK music magazines and reached number 16 on the UK Albums Chart. The Rezillos split four months after the album's release, and the band did not make another studio album until their reformation in 2001 and the release of Zero in 2015. In March 2003 Mojo magazine ranked the LP in its list of Top 50 Punk Albums.