other titles...
See also...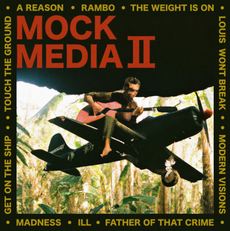 ILL
LOUIS WONT BREAK
FATHER OF THAT CRIME
RAMBO
MODERN VISIONS
MADNESS
REASON
TOUCH THE GROUND
GET ON THE SHIP
THE WEIGHT IS ON
dinked edition 263




- 180g red on black splatter vinyl *
- Glossy fold out poster *
- Band logo sticker *
- Unique Obi-Strip *
- Limited pressing of 300 *

*EXCLUSIVE to Dinked Edition
MOCK MEDIA
MOCK MEDIA II
meat machine
Featuring members of Crack Cloud, N0V3L & Pottery, the debut lp from Canada's new supergroup is sneakily eclectic:
the high-wired punk rock stylings serve as Mock Media's framework to clad their agog explorations into pop, electronic & world folk music.
Sit up & pay attention!


The quartet's combined creativity unravels in giddy, curious directions, cleaving like a lightning bolt through the
dread. The album's connective tissue is knitted together from crafty, tongue-in-cheek pop melodies and the kind of plucky storytelling that chronicles the greater complexities of life. 'Mock Media II' is
an exercise of tension and release, the ease of the chemistry between the four musicians giving merit to the weight of the subject matter.

FFO: The Clash / Yeasayer / Crack Cloud / Total Control / Cola / Do Nothing