Pulp
freaks
fire records
---
on 1987's 'freaks', pulp had morphed into a band that were darkly romantic, brooding, noisy & a little gothic.
by this record every member bar jarvis had moved on but the addition of russell senior proved to be a pivotal turning point for the band. pulp were out-of-tune with the times: but the times didn't satisfy pulp. most of these songs stand the distance of time: it was here, possibly even more than 1992's 'separations', that they started coming into their own as a band with a fully-realised aesthetic.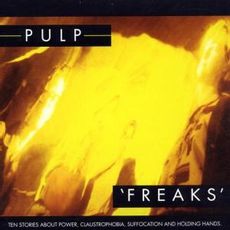 Tracklist
DISC 1 :
1. Fairground
2. I Want You
3. Being Followed Home
4. Master Of The Universe
5. Life Must Be So Wonderful
6. There's No Emotion
7. Anorexic Beauty
8. The Never Ending Story
9. Don't You Know
10. They Suffocate At Night.
Disc 2 :
11. Little Girl (With Blue Eyes) (BONUS)
12. Simultaneous (BONUS)
13. Blue Glow (BONUS)
14. The Will To Power (BONUS)
15. Dogs Are Everywhere (BONUS)
16. The Mark Of The Devil (BONUS)
17. 97 Lovers (BONUS)
18. Aborigine (BONUS)
19. Goodnight (BONUS)
20. Tunnel (BONUS)
21. Manon (BONUS)