matthew e. white
Big Inner
domino
---
*** RESIDENT ALBUM OF THE YEAR - 2013 ***
it's not often that a record comes along & blows yer socks off right from the outset - but that's exactly what this Moving, redemptive & powerfully soulful record has done for us.
this lolloping beauty mixes the creative art-rock of tv on the radio, the dark brooding of tindersticks, the magical ethereal moments of bon iver & the alt.country of lambchop - if beck was raised on the band & little feat, immersed in delta swamp rock & then performed in his local gospel church, this might have been the joyous result. an astonishing & highly recommended record, set to be a word of mouth hit. "stunning" 9/10 Uncut Album Of The Month, "Bottomless columns of ethereal soul… magical" – Pitchfork, "Resplendently somnolent funk" - Rolling Stone, "A dramatic pop-gospel record that hits extremes of the mood spectrum" - NY Times.
***deluxe 'outer face' 2cd edition includes 5 bonus tracks***

natasha recommends : "an overwhelming, loosely- structured country-soul delight that i can't imagine ever tiring of. it had me hooked from the 1st listen & after seeing him live at that awesome audio show in january, i knew this album would take some beating to top the year's best releases. simultaneously quietly intimate & joyously exhilarating, it's a bonefide instant classic!".

derry recommends : "one of the best albums of this or any year, everything great about the early seventies but still right in the present".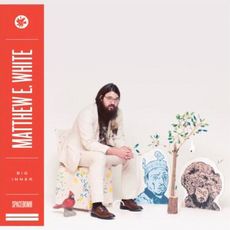 Tracklist
One Of These Days
Big Love
Will You Love Me
Gone Away
Steady Pace
Hot Toddies
Brazos
outer face (deluxe 2cd only):
Eyes Like The Rest
Signature Move
Human Style
In The Valley
Hot Hot Hot


76mm badge!