Pissed Jeans
Honeys
SUB POP
---
the foursome continue to compellingly vent blue collar frustration through their bludgeoning, noisy, grunge-punk sound.
4 full-lengths haven't mellowed pissed jeans - they can still unleash a blare that will exfoliate your cochlea. 'honeys' stews on the kind of mundane, niggling things that keep you up late at night, an ode to the misery & shackles of being a responsible adult, & the shame of one's own narcissism. that's if you can penetrate the meaning through the dizzying guitar noise, relentless punk energy, brutal, guttural vocals & disorienting aura of violence & visceral sounds that these stalwarts of angst relentlessly pummel into your skull.
daniel recommends : "more brilliantly sludgy, chaotic noise punk, tracks like 'cafeteria food' & 'health plan' are a furious concentrate of dead end job disillusionment".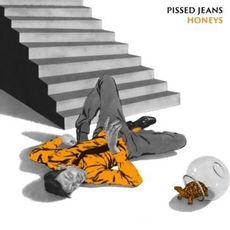 Tracklist
Bathroom Laughter
Chain Worker
Romanticize Me
Vain In Costume
You're Different (In Person)
Cafeteria Food
Something About Mrs.Johnson
Male Gaze
Cathouse
Loubs
Health Plan
Teenage Adult