savages
silence yourself
Matador
---
a deeply atmospheric record with all the makings of a classic from this all-female post-punk quartet - prepare to be blown away! recalling the tenacity & more artistic movements of london's punk heyday with their blistering sound & noisy guitars, 'silence yourself' opens with an excerpt from the john cassavetes film 'opening night' & features new recordings of 'husbands', 'i am here' & 'city's full'.
their overarching aesthetic is striking, like joy division's bleak, dehumanised haze meeting the most essential, stripped back, visceral elements of hardcore punk & the birthday party's limitless energy, with frequent explosions of jagged einstuerzende neubauten guitars & public image style dramatic vocal posturing thrown in for good measure. "nods subtly to bauhaus & wire, but their translation is a wilder, impatient beast, squealing with immediacy & thrashing with insurgency" 9/10 - clash, "it's got cult classic written all over it" 8/10 - nme.

natasha recommends : "a perfectly executed slice of purposeful, vigourous pop- noir. bands like this don't come along often but savages' uber-cool debut has all the makings of a true, timeless classic".

derry recommends : "post punk for now, as angular as jehnny beth's cheekbones".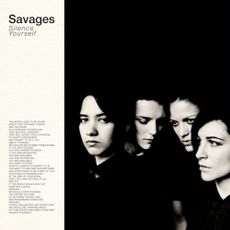 Tracklist
Shut Up
I Am Here
City's Full
Strife
Waiting For A Sign
Dead Nature
She Will
No Face
Hit Me
Husbands
Marshal Dear