Future Of The Left
HOW TO STOP YOUR BRAIN IN AN ACCIDENT
prescriptions
---
a focused, driven, vital & perfectly paced record from the welsh 4-piece who, having Freed themselves from label interference & pressure, let rip as if it's their first record.
you are excited - don't miss out! All artwork by acclaimed London based comic artist & illustrator Krent Able. "arguably the band's finest hour. Falco has never sounded better; his vocals are varied in delivery, range & content. The comedic edge to the words that so few bands ever find a way of passing off are more subtle than ever yet even more smile-inducing; the Stewart Lee if you will to his peers' Comedy Roadshow attempts. The amount of personality he injects throughout is a masterclass in frontmanship...stronger than ever before" 4.5/5 - drowned in sound.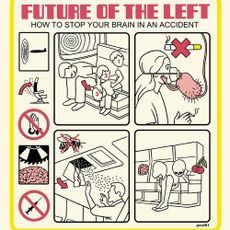 Tracklist
Bread, cheese, bow and arrow
Johnny Borrell afterlife
Future child embarrassment matrix
The male gaze
Singing of the bonesaws
I don't know what you ketamine (but i think i love you)
French lessons
How to spot a record company
Donny of the decks
She gets passed around at parties
Something happened
The real meaning of Christmas
Things to say to friendly policemen
Why aren't I going to hell?