CROSBY, STILLS, NASH & YOUNG
csny 1974
RHINO
---
'CSNY 1974' captures the band's one-of-a-kind harmonic alchemy during its remarkable outdoor stadium tour, a trek that spanned more than two months & included 31 concerts, in 24 cities.
Produced by Graham Nash & Joel Bernstein, the box set mirrors the electric/acoustic/electric format that the band followed each night on stage, representing an idealised version of a show from the tour. It includes some of CSNY's best-known music; songs like 'Suite: Judy Blue Eyes', 'Helpless', 'Wooden Ships' & 'Teach Your Children'. During the 1974 tour, CSNY also introduced new songs that emerged later on various albums, like Crosby's 'Time After Time', Nash's 'Fieldworker' & Stills' 'First Things First'. Several songs by Young are previously unreleased, including 'Traces', 'Love/Art Blues', 'Goodbye Dick' & 'Hawaiian Sunrise'.

Available in the following formats:
Single CD – 16 tracks, electric and acoustic, selected from the collection
&
3CD & DVD - Boxed set with 40 audio tracks on 3 CDs, a bonus DVD of 8 previously unreleased, restored archival video performances & a 188-page booklet.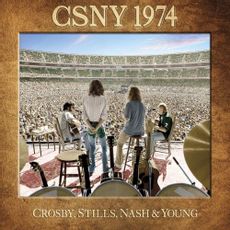 5