IBEYI
IBEYI
XL
---
the 19 year old French Cuban twins' debut is a set of "contemporary negro spirituals" that combine a love of two very different worlds – the Yoruba chants of their ancestors & the electronic, hip hop & jazz influences of growing up in the city.
Naomi & Lisa­Kainde Diaz caught our attention a while back when we were lucky enough to see them live (they are astonishing performers) & now their debut album fulfils all our expectations. They are daughters of the late Cuban percussion Anga Diaz. Naomi plays percussive instruments, the Cajon & the Batas, while Lisa plays piano. from finger clicks to multi-layered instrumentation, 'ibeyi' cleverly manages to be both sparse & lush in a similar way to nina simone or her more modern successor, laura mvula. it's a really interesting & inventive record that pulls you back in time & time again & is likely to appeal to fans of the aforementioned as well as bjork, fka twigs or rokia traore.
natasha recommends: extraordinary, magical vocals inventively interwoven with electronic, jazz & hip hop influences. stunningly fresh.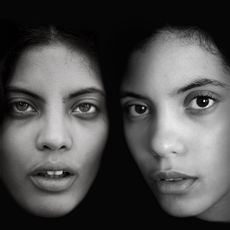 32
Tracklist
Eleggua (Intro)
Oya
Ghosts
River
Think Of You
Behind The Curtain
Stranger / Lover
Mama Says
Weatherman
Faithful
Yanira
Singles
Ibeyi (Outro)