Songhoy Blues
music in exile
TRANSGRESSIVE
---
four talented, hungry, sharp & outward-looking young men from mali, a part of the world that may seem strange, alien & 'exotic' to some but deep down, Songhoy Blues are a familiar proposition: four young men, guitar, drums, bass & vocals, driving rhythms, big hearts & a story to tell.
the band were invited to record a song with Nick Zinner of the Yeah Yeah Yeahs & the track, 'Soubour', ended up as opening track on the Africa Express album, 'Maison des Jeunes'. this, their debut album, is a superb offering of desert blues; blending American guitar licks with Malian groove. "an impressively varied & rousing set...There's electric desert blues (Nick), slinky, acoustic ballads (Petit Metier) & reworkings of songs from the Songhoy tradition. A band to watch" 4/5 - guardian, "a stand-tall" statement & a gladdening coming together of worlds" 4/5 - mojo.

*** deluxe edition details (bonus tracks also available on vinyl as a separate 3 track 12", 're-covered' ***
features 3 new tracks: staggering re-interpretations of songs by some of the group's key influences. A re-versioning of the Clash's 'Should I Stay Or Should I Go', An extraordinary re-working of Led Zeppelin's 'Kashmir', fully endorsed by Jimmy Page after initially gracing the cover of Mojo Magazine & a stunning version of Manu Dibango's classic 'Soul Makossa', which might be the band's greatest musical performance to date, all feature on this deluxe edition.

derry recommends: songhoy blues take the now familiar sound of the 'desert blues' as a starting point & inject it with a youthful punch & energy that we never knew it was missing.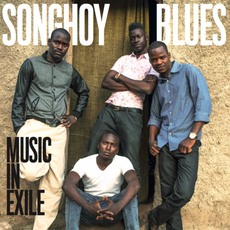 7
Tracklist
Soubour
Irganda
Al Hassidi Terei
Sekou Oumarou
Nick
Ai Tchere Bele
Wayei
Petit Metier
Jolie
Desert Melodie
Mali
Kashmir (deluxe edition cd bonus track)
Should I Stay or Should I go (deluxe edition cd bonus track)
Soul Makossa (deluxe edition cd bonus track)

INDIES ONLY 3 track BONUS DISC (demo versions of tracks from 'Music in Exile') :

1. Sekou Oumarou
2. Irganda
3. Nick