william tyler
Deseret Canyon
Merge Records
---
Deseret Canyon' was the first collection of largely solo guitar-based composition by William Tyler.
Originally released in 2008 by German imprint Apparent Extent under the moniker The Paper Hats, it is now being reissued under Tyler's own name. The album is imbued with immense meditative space in comparison to Tyler's more recent work, such as 2013's widely acclaimed Impossible Truth. The blend of familiar melody, atmospheric arrangements, and esoteric subject matter is present, but in a nascent form. Deseret Canyon is exploratory in both aesthetic terms and technique. It is the sound of a guitarist and composer coming into his own, finding his "voice." "Deseret" is a term from the Book of Mormon meaning "honeybee" and also refers to a lost alphabetic script briefly used by the Mormon Church in the 19th century. While Tyler's music is instrumental, he has always been fascinated by the intersection of cultural memory, lost languages, places of exile, and myth. The music on Deseret Canyon acknowledges the drones of the desert, whether they are in the Middle East or the American West. Largely played by Tyler himself, Deseret Canyon includes guest appearances from Lambchop's Paul Niehaus and Ryan Norris as well as engineering work by Mark Nevers and Joe Pisapia, both of whom would later collaborate with Tyler on Impossible Truth and Lost Colony, respectively.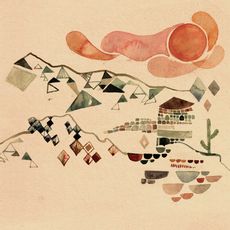 Tracklist
Man of Oran
Parliament Of Birds 11:57
The Green Cigar Kept Smiling
The Sleeping Prophet
Hermit Kingdom
Waltz of the Circassian Beauties
Crystal Palace
Sea Of Glass.