thee oh sees
MUTILATOR DEFEATED AT LAST
castle face
---
oh man! they've only gone & done it again haven't they? yep, it's another new batch of brain-melting muscular tunes from john dwyer & co that are primed to pummel.
Last year's 'Drop' was more schizophrenic, ranging from heavy to whimsical & back - whereas 'Mutilator Defeated At Last' has more in common with the monolithic hugeness of 'Floating Coffin' or the killer pop-thrash of 'putrifiers ii'. with only two slight reprieves in heaviness, this is a record made to be played loudly & that demands bodily sacrifice inherently. Despite the plutonium heavy feel, Thee Oh Sees continue to be omnivorous - synths & acoustic guitars expertly wind their way throughout like veins of gold through granite - any & all that stands in its way will be devoured & assimilated. This is the sound of a band doing what they do best & we bloody love them for it! for fans of ty segall, white fence, sic alps or coachwhips.
natasha recommends: mind-melting psych-thrash with a pop edge. heavy & hard with shards of light that cut through to create the perfect balance.
James Cooper recommends: i imagine this is what boba fett rocks while cruising in his slave i.
christian recommends: bracing squalls of perfect riff-driven noise.
ian recommends: they've really gone and done it this time...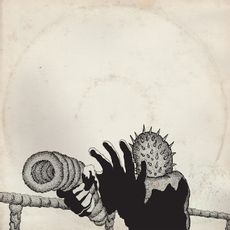 8
Web
Withered Hand
Poor Queen
Turned Out Light
Lupine Ossuary
Sticky Hulks
Holy Smoke
Rogue Planet
Palace Doctor