sauna youth
distractions
upset the rhythm
---
truly irregular punk that's at times furious, unstoppable & severe with the sampler wailing like an alarm coming from a parallel universe – then chugging, poppy, harmonious & fun - but essentially, it's forever loud.
Having formed in Brighton in 2009, the band then moved to London in 2011, shifting its line up to its current constellation of Richard Phoenix (drums, vocals), Lindsay Corstorphine (guitar), Jen Calleja (vocals, sampler) and Christopher Murphy (bass). fans of thee oh sees, the soft walls or monotony. "'Distractions' is a triumph in every respect, from the frantic rush of the metaphorical moshpit that dresses up thrilling numbers like 'Modern Living' or the blisteringly brilliant 'The Bridge'...& through to the no holds barred production. You can smell the sweat from here...the most punk sounding punk record you'll have heard in years" 4.5/5 - god is in the tv.
james canham recommends: post punk that's raucous, smart and tuneful in equal measures.
Ian recommends: making the best possible use of one note.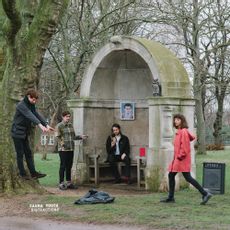 51
Tracklist
End Loop
Transmitters
New Fear
Monotony
Cosmos Seeker
Modern Living
Leather
Paul
Abstract Notions
The Bridge
Try To Leave
Future Tense
(Taking a) Walk
Creeping