Adrian Younge Presents : Ghostface Killah
12 Reasons To Die II
Linear Labs
---
sequel to younge & ghostface's musical crime yarn, fusing organic cinematic funk with wu-style rhymes - to up the ante this time around, Ghostface has added a very important lyrical companion to the mix: Raekwon.
The chemistry that was cemented two decades ago on Rae's classic 'Only Built 4 Cuban Linx' is as strong as ever, while executive producer and Wu-Tang patriarch The RZA returns as the story's narrator. The storyline for Part II is vividly brought to life with the help of Younge's evocative and unique brand of psychedelic soul. It all fits perfectly into the Wu-Tang family tree as well as Younge's always-expanding linear labs musical universe.
*deluxe version includes instrumental version, also available separately.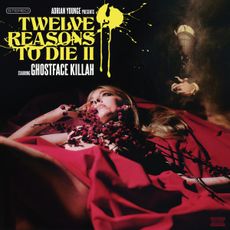 Tracklist
Powerful One
Return Of The Savage (feat. Raekwon & RZA)
King Of New York (feat. Raekwon)
Rise Up (feat. Scarub)
Daily News
Get The Money (feat. Vince Staples)
Death's Invitation Interlude (feat. RZA)
Death's Invitation (feat. Chino XL, Lyrics Born, & Scarub)
Let The Record Spin Interlude (feat. RZA)
Let The Record Spin (feat. Raekwon)
Blackout (feat. Raekwon)
Resurrection Morning (feat. Raekwon & Bilal)
Life's A Rebirth (feat. RZA)