savages
adore life
Matador
---
opening with what is one of their most confrontational, intense & impressive statements to date, you know you're in for another thrilling, visceral sonic assault from the get go.
interestingly, they've brought the danish electronic musician / producer trentemoller on board to mix the record & he brings a crispness & brightness to the darkness, taking them beyond the siouxsie indebted post-punk of their debut into a more punchy, direct form of delivery. fans of everyone from gang of four to nadine shah, daughter to nick cave will adore this. "delivered with a torrid urgency" 8/10 - uncut, "In philosophical terms, "love is a disease / the strongest addiction I know" hardly represents stop-press news. but savages passion now feels contagious...they discovered it isn't easy to intellectualise rock's feral instincts. the answer was there all along, screaming through their vein" 4/5 - mojo.

natasha recommends: "it gets my blood pumping – savage(s) by name, savage by nature – 'silence yourself' was tough to match but they're as challenging & compelling as ever.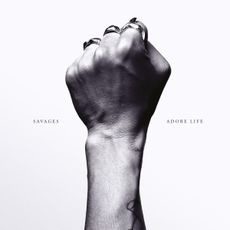 Tracklist
The Answer
Evil
Sad Person
Adore
I Need Something New
Slowing Down The World
When In Love
Surrender
TIWYG
Mechanics