PINKSHINYULTRABLAST
grandfeathered
Club Ac30
---
shoegaze synth-rock straight out of saint petersburg - a mesmerising follow up to their debut album, and one that's far more experimental than before; it's the sound of a band unafraid to try new things and embrace those fine lines between visceral noise and restrained subtlety.
this is an album that consistently demonstrates diversity and eclectic ambition with influences on this record pointing towards a new direction for the band - singer Lyubov claimed "Hardcore, metal and afrobeat" were all instrumental in its formation and throughout the record you can hear all that and more. this is the sound of a band destined for great things; they've perfected what they started on their first album and pushed things forward exponentially. this is the sound of lush, cocteau twins, grimes and diiv all rolled into one exquisite package. "digital dream-pop and ethereal electronica... the overall effect is grimes meets cocteau twins in downtown petrograd." - 4/5 q magazine




"ride the sky" version"





"acid lollypop" version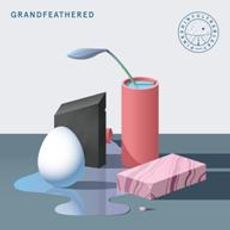 Initial
Glow Vastly
I Catch You Napping
Kiddy Pool Dreams
comet Marbles
the Cherry Pit
Mölkky
Grandfeathered