CHRISTINE AND THE QUEENS
Chaleur Humaine
BECAUSE
---
Great pop music alchemically combines innate and inimitable artistic flair with open accessibility and instantly infectious hooks – Heloise Letissier's Christine and The Queens do both with consummate ease.
'Chaleur Humaine' takes a minimal, dancefloor ready approach to rhythm and production then whips it into a pop structure that sounds loose but hypnotic with vocals that are always emotionally charged but never overwrought – even when she's singing in French, her delivery means that those of us that can't understand her words still innately feel her meaning.

The aforementioned French language sections, alongside her accent, ensure that the album retains her distinctly European style. Having been released in France previously, the version we have here was rerecorded with (mostly) English language, and with new tracks, including the devastating 'Jonathan' which features Perfume Genius. While the French version is undoubtedly endearing and still fun, we're so glad to be able to hear Letissier's lyrics, which are anything but the usual pop throwaways. Through the course of the album she deals with her gender fluidity, depression and displacement alongside heartbreak and love, but, while she's reflective, she never gets lost in the depths that any of those themes can drag you to, instead opting to layer meaning in her poetry and laid over rhythms that you can dance to.

It's been a joy to watch this album grow and to see so many become enraptured by its vividly painted world.

"owing as much to Weimar cabaret as 1970s-era David Bowie - beguiling" - Sunday Times Culture

"…an artist who clearly thinks pop music can be both an unalloyed pleasure and a conduit for ideas, a means of provoking thought, a world in which you can reinvent yourself at the same time" 5/5 -The Guardian

tom recommends: "Beautiful record inspired by gender fluidity and avant-garde theatre - every single song an expertly written slice of wonderful pop music from the French star"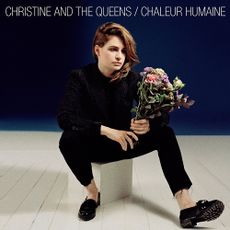 Tracklist
iT
Saint Claude
Tilted
No Harm Is Done (feat. Tunji Ige)
Science Fiction
Paradis Perdus
Half Ladies
Jonathan (feat. Perfume Genius)
Narcissus Is Back
Safe And Holy
Night 52
Here