twin peaks
Down in Heaven
communion
---
sun soaked jangle pop with ezra furman energy and real estate fuzziness – the tunes here will be stuck in your head before you know it.
their loose and wild take on 60's psych pop is simply brilliant : they bring to mind the Scottish new wave of orange juice and the likes, 90's college rock and beach boys-y american pop all at once without ever sounding derivative or like they're trying too hard. simply a great summer guitar album. "The five-piece have added consideration and restraint to their usual wheezing approach." – 4/5 nme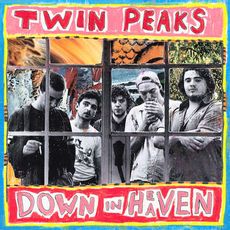 Tracklist
Walk To the One You Love
Wanted You
My Boys
Butterfly
You Don't
Cold Lips
Heavenly Showers
Keep It Together
Getting Better
Holding Roses
Lolisa
Stain
Have You Ever?