karen dalton
it's so hard to tell who's going to love you the best (2016 reissue)
Megaphone
---
reissue of the classic 1969 album from the woman bob dylan once descibed as his "favourite singer" - this is a a gem of an album from the late folk / blues singer.
alongside the original album, a bonus dvd is included, featuring a 25 minute home movie, directed by Dalton which shows her playing her guitar and performing four songs alongside footage of her home and late-'60s new york. "the most magical reissue of the year." - time out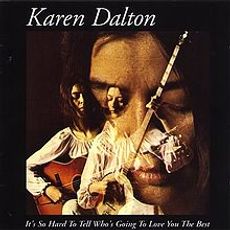 Tracklist
Little Bit Of Rain
Sweet Substitute
Ribbon Bow.
I Love You More Than Words Can Say
In The Evening (Its So Hard To Tell Who's Going To Love You The Best)
Blues On The Ceiling
It Hurts Me Too
How Did The Feeling Feel To You
Right, Wrong Or Ready
Down On The Street (Don't You Follow Me Down).