Pissed Jeans
why love now
SUB POP
---
james 1 recommends: "snarlin', aggressive but also good to dance to"

this grinding quartet have been making gnarly noise for 13 years & on their 5th album, they pick at the bursting seams that are barely holding 21st-century life together.
Pissed Jeans' gutter-scraped amalgamation of sludge, punk, noise & bracing wit make the band a release valve for a world where absurdity seems in a constant battle trying to outdo itself. No Wave legend Lydia Lunch shacked up in Philadelphia to produce 'Why Love Now' alongside local metal legend Arthur Rizk (Eternal Champion, Goat Semen). The combination of Lunch's spiritual guidance & Rizk's technical prowess supercharged Pissed Jeans & propels them to their grimy, grinning best.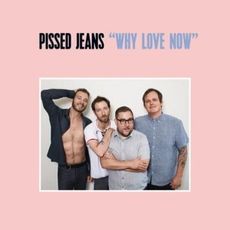 Tracklist
Waiting On My Horrible Warning
The Bar Is Low
Ignorecam
Cold Whip Cream
Love Without Emotion
I'm a Man
(Won't Tell You) My Sign
It's Your Knees
Worldwide Marine Asset Financial Analyst
Have You Ever Been Furniture
Activia
Not Even Married