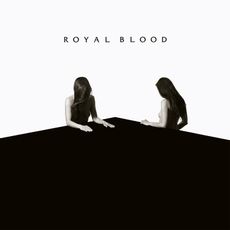 How Did We Get So Dark
Lights Out
I Only Lie When I Love You
She's Creeping
Looks Like You Know
Where Are You Now?
Don't Tell
Hook, Line & Sinker
Hole In Your Heart
Sleep
royal blood
how did we get so dark?
warner bros.
how the hell is it possible for these 2 to come back with a record even more powerful, even more explosive record than their debut? well, they bloody well have.
Always trying to explore ways of stripping their enormous sound back to give it more space & impact, vocalist/bassist Mike Kerr & drummer Ben Thatcher's patented two-man artillery of carefully constructed melodic aggression is still prevalent throughout. thunderous rhythms, twisted bass riffs, strident choruses, bounding energy - they are more visceral than ever whilst also refining their melodic might, expanding into new dimensions & adding the odd piano or keyboard to their sonic palette. pulsating, foreboding & everything we could have hoped for from their sophomore.