other titles...
See also...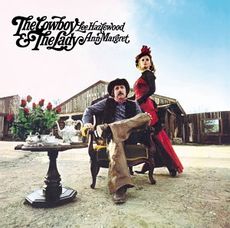 Am I That Easy to Forget
Only Mama That'll Walk the Line
Greyhound Bus Depot
Walk On Out of My Mind
Hangin' On
Victims of the Night
Break My Mind
You Can't Imagine
Sweet Thing
No Regrets
Dark End Of The Street
You Turned My Head Around
It's A Nice World To Visit (But Not To Live In)
Sleep in the Grass
Chico
Lee Hazlewood & Ann Margret
The Cowboy & The Lady (2017 reissue)
light in the attic
this expanded reissue of the duo's collaborative album perfectly exemplifies Lee's "throw it against the wall and see if it sticks" approach to record production and it's an absolute thriller.
The album is Hazlewood's truest country album and a perfect example of the genre hopping he was afforded at LHI with unlimited creative freedom and money to burn. Recorded over a weekend in Nashville with the help of Charlie McCoy and some Nashville session musicians. With improvised lines like "Look at her standing there with chili all over her dress / If I knew her better, I'd give her a puppy," the sessions were loose and fun, with most tracks cut in one or two takes.