sons of kemet
Your Queen is a Reptile
impulse!
---
This ain't no coffee table jazz record, nor a noodly free form opus – their 3rd is a heady concoction of percussive brass, earthy synths, primal drumming and fiery vocals.
Melding explosive dance grooves and dynamic jazz-rock with a ferocious punk bite, reggae's bounce and hip hop's compulsion to communicate, there's a relentless restlessness to this record – one that we've come back to repeatedly when we need to recharge our batteries (i.e. frequently!).

If you're not familiar with the band, don't let the fact that this was 2018's 'token jazz record' in the Mercury Music Awards shortlist put you off listening to them. It would be all too easy to imagine that they only received the attention that they did because they fulfill some kind of diversity quota and tick a genre box. This may be Sons of Kemet's first release on Impulse! (the label that was once home to the likes of Charles Mingus, John Coltrane and Pharoah Sanders) but often this is hardly even a jazz record at all (by usual definitions at least) – it talks in a rich new musical language which has been developing for a number of years, through this outfit and each band member's various other projects. Featuring a who's who of the continuously burgeoning British jazz scene, sax / clarinet prodigy Shabaka Hutchings (Shabaka and the Ancestors, The Comet Is Coming) leads his equally virtuosic brethren to weave a vibrantly spiritual tapestry.
London-based bandmates Tom Skinner and Seb Rochford (Polar Bear / Acoustic Ladyland) form a dynamo duo on drums here. Theon Cross (taking over from Oren Marshall on tuba) brings that New Orleans-style jazz energy and the group are also joined by guests Pete Wareham (Melt Yourself Down / Acoustic Ladyland / Nadine Shah's band), Moses Boyd (2 x Mobo Award winner & jazz / electronic blender), Rebel MC Congo Natty and one of the hottest "newbies" on the scene, Nubya Garcia, amongst others. It's a delightfully unorthodox collection of talent and it results in a ludicrously brilliant record.
Powered by the sounds of Shabaka's Caribbean roots, the echoes of New Orleans, West African rhythms and Western military band music, the insatiable verve and power of this record comes from the deftness of the interplay between each band member. Sometimes it feels like we are part of a New Orleans street party, at others like we've been caught up in some kind of tribal voodoo dance but the record is never less than thrilling and mesmeric. An urgent, manic, politically charged, yet euphoric deconstruction of the contemporary jazz scene.

"The richness of the source material & the deftness of interplay of each member of the band ensures that 'Your Queen is a Reptile' leaves you with a sense of having been a part of something truly special" 9/10 – line of best fit.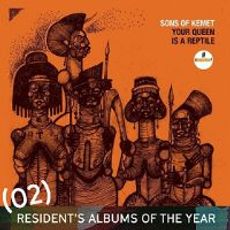 Tracklist
My queen is Ada Eastman
My queen is Mamie Phipps Clark
My queen is Harriet Tubman
My queen is Anna Julia Cooper
My queen is Angela Davis
My queen is nanny of the maroons
My queen is Yaaasantewaa
My queen is Albertina Sisulu
My queen is Doreen Laurence