our girl
Stranger Today
cannibal hymns
---
They do loud - They do quiet - They do subtle - They do visceral - They do melancholy - They do spirited - They do slacker - They do dynamic - They do all of this with unceasing panache and nuance.
This is the story of the joy of watching a band gradually rise through the local scene to produce a record that blew all our expectations out of the water. Back in 2015, after the band had caught our attention on a number of occasions, we asked Our Girl to play our Record Store Day 'Spectrum' event that we used to co-curate with the Dome. It was a very special night and they lit up the stage. It was obvious this was a band on the rise – ones to keep an eye on.

Since then, Soph Nathan has been basking in the glory of the success of her "other" group, The Big Moon (Mercury nominated for their debut last year) and Josh Tyler has also been busy with his "other" band, Breathe Panel (who released their well-received debut this year too). Quite how they found time to put this record together is a mystery but the fact that they did take their time, really pays dividends. The confidence and understanding of each other that they have developed, plays out in the music. We hear the sound of the trio's hunger to finally commit to tape the years' worth of scrapbooks and half-finished ideas that they had been slowly-forming. What has emerged, is the sound of pure chemistry between friends.

There's no denying the impressive musicianship amongst the trio. The guitar work is tight and powerful throughout, the drums never intrusive but always holding it all together, Soph's expressive and unfaltering vocals completing the picture. Well, almost. The magic ingredient here is the production, which comes courtesy of Bill Ryder-Jones (himself the architect of one of this year's finest albums). He brings an amazing warmth to their wall of sound whilst also managing to put some distance between them, allowing each member to breathe.

'Stranger Today' is one of those records that reveals a different favourite song with every listen. Sometimes it's opener 'Our Girl' – a scorching, Pixies'-esque explosion into the record. Sometimes it's 'I Really Like It' 'cause it builds perfectly and is so damn catchy. Sometimes it's 'Two Life''s crunch and fuzz. Sometimes it's the deceptively simple 'Level' which moves from gorgeously delicate melodies to ferocious guitar noise half way through. Mostly though, it's 'In My Head' – a pounding, searing, chiming masterstroke of a song whose pace ascends in tandem with its grandeur to reach the perfect denouement, all in under 4 minutes.

It's a record that could nestle happily amongst much of the 4AD roster (The Breeders, The Pixies, Daughter, Lush, Cocteau Twins) but they've confidently put this out on local label Cannibal Hymns, keeping it local, keeping it real.

"one of the most promising new bands on the UK's guitar scene" 8/10 - line of best fit, "overcast, shoegaze-indebted indie that whips & swirls with uncompromising force" - nme.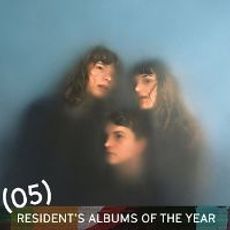 Our Girl
Being Around
In My Head
I Really Like It
Josephine
Two Life
Level
Sub Rosa
I Wish It Was Sunday
Heat
Boring
CD2/LP2 - 'Bedroom Record' I Really Like It
Being Around
Two Life
Careful
I Wish It Was Sunday
Our Girl (Demo)
I Really Don't Mind
Whatever (Demo)
Josephine (Demo)