LED ZEPPELIN
THE SONG REMAINS THE SAME (2018 remaster)
swan song
---
this is A new edition of the soundtrack to their legendary live show, featuring newly remastered audio.
The performances in the film were recorded during the band's tour for its then-current studio album, 'Houses Of The Holy'. The collection is packed with electrifying live versions of Zep classics like "Rock and Roll," "Stairway To Heaven," "No Quarter," "Moby Dick," "Dazed And Confused," and "Celebration Day." ***On the 4-LP set, Page made a change to the track sequence, allowing the epic, 29-minute version of "Dazed And Confused" to feature in its entirety on one side of vinyl for the first time.***

Super Deluxe Boxed Set contents:
Remastered audio on two CDs and four 180-gram vinyl LPs.

Two DVD set of the The Song Remains The Same

featuring the full theatrical version of the film plus

bonus content including four performance outtakes that were not part of the original film:

"Celebration Day," "Over The Hills And Far Away," "Misty Mountain Hop," and "The Ocean."

DVD of the entire album in Dolby Digital 5.1 Surround and PCM Stereo, plus photo gallery.

High-def download card of all stereo audio content at 96kHz/24 bit.

A 28-page book featuring band photos and stills from the film and an essay by Cameron Crowe.

A replica of the Japanese program from 1977, previously available only when the film first toured cinemas in that country.

High-quality print of the original album cover, the first 30,000 of which will be individually numbered.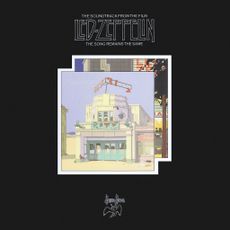 Tracklist
Rock And Roll
Celebration Day
Black Dog
Over The Hills And Far Away
Misty Mountain Hop
Since I've Been Loving You
No Quarter
The Song Remains The Same
The Rain Song
The Ocean
Dazed And Confused
Stairway To Heaven
Moby Dick
Heartbreaker
Whole Lotta Love