John Carpenter & Alan Howarth
HALLOWEEN III: SEASON OF THE WITCH
death waltz recording co.
---
featuring lush pads, Linn drums aplenty and veering from beautiful blissed-out ambient drones to sinister stinger-driven mood pieces, this was yet another stellar entry in john carpenter's legendary soundtrack oeuvre.
Absolutely outstanding stuff. The film is unique not only due to its lacking Michael Myers (save for a brief appearance on a TV screen) but also for its score. John Carpenter and Alan Howarth completely jettisoned their previous work and deliver nothing short of an electronic masterpiece. The lead track 'Chariots Of Pumpkins' is an epic 4/4 beat-driven synth-banger that has regularly been played by DJs over the last 10 years.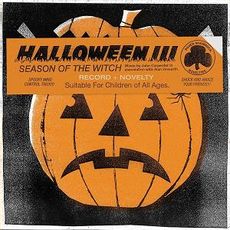 Halloween III: Season Of The Witch - Main Titles
Chariots of Pumpkins
Gas Station
Robot Kills Grimbridge
Ellie Enters
Microphone
Drive to Santa Mira
Challis and Starker
Marge Revealed
Silver Shamrock - Two More Days
Robots at the Factory
First Chase
Hello Grandma
silver Shamrock - 1 More Day
Santa Mira Night
The Rock
Cochran Speaks
Silver Shamrock - Happy Happy
Challis Escapes
South Corridor
Halloween III - Titles and Chariots (Alt Mix)