THE AINTS!
THE CHURCH OF SIMULTANEOUS EXISTENCE
ABC/FMD
---
When the heavily lauded, heavily influential first incarnation of The Saints split in 1978, Ed Kuepper, the sonic architect and primary songwriter of the original band left behind a plethora of unreleased material.
however, rather than attempt to salvage what could have been Kuepper chose to move on forming the legendary Laughing Clowns performing and recording in Australia and the U.K. from 1979 through 1984 before embarking on an ARIA award winning solo career that has kept him touring and recording steadily since 1985. Come 2017 though, and the 40th anniversary of The Saints seminal debut, Kuepper was persuaded it was time to revisit and celebrate the music of his youth.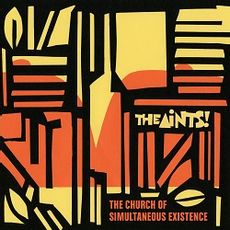 Tracklist
Red Aces
The Church of Simultaneous Existence
You?ll Always Walk Alone
You Got the Answer
Country Song in G
Elevator (A Song For Barking Lord Jeff)
This Is Our Summer
Winters Way
S-O-S 75
Demo Girl Part 2
Good Night Ladies (I Hear A Sound Without)
The Rise And Falls Of James Hoopnoch Eefil