bunny lee
Soul Jazz Records presents Bunny Lee: Dreads Enter the Gates with Praise – The Mighty Striker Shoots the Hits!
Soul Jazz Records
---
Soul Jazz Records presents this new collection featuring the heavy 70's roots reggae of Bunny Lee - a living legend, and one of the last of the great Jamaican record producers who helped shape and define reggae music in the 1970s from a small island sound into an internationally successful musical genre.
Though his career stretches over five devades and he has upwards of 2,000 production credits on vinyl, most of the recordings featured here come from the mid 70's, from a time when Bunny Lee was definitely in the zone as he rose up alongside Lee 'Scratch' Perry to break the dominance of the traditional big producers that had ruled Jamaican music through the 1960's, releasing heavyweight singles at an almost unstoppable rate. This album comes with extensive sleevenotes, an interview with Bunny Lee and exclusive photography.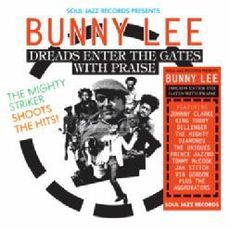 Tracklist
Johnny Clarke - Enter Into His Gates With Praise
King Tubby Meets Tommy McCook and The Aggrovators - The Dub Station
Gene Rondo - Why You Do That
Vin Gordon & The Aggrovators - Magnum Force
Jackie Edwards - So Jah Seh
The Aggrovators - So Jah Seh Dub
Jah Youth - Principle and Dignity
King Tubby Meets Tommy McCook and The Aggrovators - King Tubby Dub
Jah Stitch - Real Born African
The Aggrovators - African Love Call
Gene Rondo - A Land Far Away
The Uniques - Queen Majesty
Johnny Clarke - Time Will Tell
The Aggrovators - Drums Of Africa
Winston Wright - Marvelous Rocker
The Mighty Diamonds - You Should Be Thankful
King Tubby, Prince Jammy and
The Aggrovators - A Thankful Version
Dillinger - Check Sister Jane
Prince Jazzbo - The Wormer
The Uniques - You Don't Care For Me
Shorty The President - Natty Dread Have Ambition
King Tubby and The Aggrovators - This A The Hardest Version