crass
Best Before 1984 (2019 reissue)
Crass Records
---
Best Before 1984 is a compilation of Crass' singles and other tracks, released in 1986, including lyrics and a booklet (".
..In Which Crass Voluntarily 'Blow Their Own'") which details the history of the band in their own words. The record brings together controversial tracks like 'Reality Asylum' (in an alternate, extended version to the original album edition), 'Sheep Farming In The Falklands' and offering up both the 7" release of 'Do They Owe Us A Living?' and its last ever performance at the band's last ever gig in 1984 at a Miners' benefit concert in Wales. The album was named in reference to the notion that 1984 was the band's "'sell by date", the year that they had often publicly stated that they would split up. Indeed, the band ceased gigging and recording in that year. Album remastered by Alex Gordon at Abbey Road Studios, as close as possible to the sound ofthe original release. "As it was in the beginning". This vinyl re-pressing features the original artwork, printed insert and a download code. The two black records are contained within black inner-bags.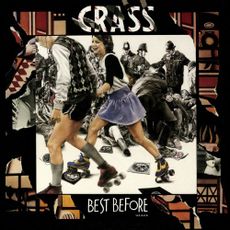 Tracklist
Do They Owe Us A Living?
Major General Despair
Angela Rippon
Reality Asylum
Shaved Women
Bloody Revolutions
Nagasaki Nightmare
Big A Little A
Rival Tribal Rebel Revel
Sheep Farming In The Falklands
How Does It Feel?
The Immortal Death
Don't Tell Me You Care
Sheep Farming In The Falklands
Gotcha
You're Already Dead
NagasakiIs Yesterday's Dogend
Don't Get Caught
Smash The Mac
Do They Owe Us A Living?